'Zombie apocalypse?' People are queueing for as much as 45 minutes at supermarkets at 11pm – here is why
If you may have been to the supermarkets over the most recent weekend, you'll perceive how crazy the crowds have been. 
Chinese New Year is merely throughout the nook and all people's in a mad rush to organize. 
And when you have not achieved your grocery shopping for however, brace yourselves for the throngs of people on the supermarkets. 
Content creator Clara Chua revealed how hectic points have been in a TikTok video uploaded on Saturday (Jan 14).
She simply currently visited FairPrice Xtra at Nex collectively together with her family on the equivalent day merely sooner than 11pm. 
Chua shared that whereas the reductions have been "pretty crazy" — assume $4.80 for a carton of drinks — the group was like a "zombie apocalypse", she described. 
"Never going to supermarkets when it's close to Chinese New Year," she acknowledged regretfully throughout the captions. 
@explodingbelly

OMG NEVER GOING TO SUPERMARKETS WHEN IT'S CLOSE TO CNY. But the reductions at @fairpricesg is fairly cray. like $4.80 for one complete carton of drinks?! #wheretoeat #sgfoodie
Speaking to AsiaOne, Chua acknowledged her family had merely wished to get some detergent nonetheless the grocery retailer was "mad crowded". 
"It looked as though we couldn't even walk to the inside of the supermarket," she described. 
Eventually, they decided to go to a distinct FairPrice outlet at Serangoon Central nonetheless points there have been "almost equally bad". 
"It's a neighbourhood outlet so it's really cramped and we queued for about half an hour there," she recounted. 
At the Serangoon Central outlet, she acknowledged she witnessed one man who was caught throughout the queue for half-hour able to pay for solely a loaf of bread. 
Since the family wanted to queue anyway, Chua acknowledged they decided to do their Chinese New Year shopping for on the same time. 
So, they picked up soup bases, inexperienced tea and some snacks on prime of the detergent. They moreover took turns prepared throughout the queue and grabbing totally different groceries, she shared. 
They moreover wished to get some abalones nonetheless as a result of it was at one different counter with "a massive queue", they decided to drop the idea. 
Chua and her family weren't the one ones who battled massive crowds at supermarkets this weekend. 
In the suggestions, one netizen acknowledged he too had visited the FairPrice outlet at Nex and had confronted the "same situation". 
Another shared that she visited one different FairPrice outlet at AMK Hub and queued for 45 minutes there. 

But is Chinese New Year grocery shopping for the one motive for the mad crowds? 
Some netizens instructed that possibly, some people have been moreover trying to clear their expiring Community Development Council (CDC) vouchers.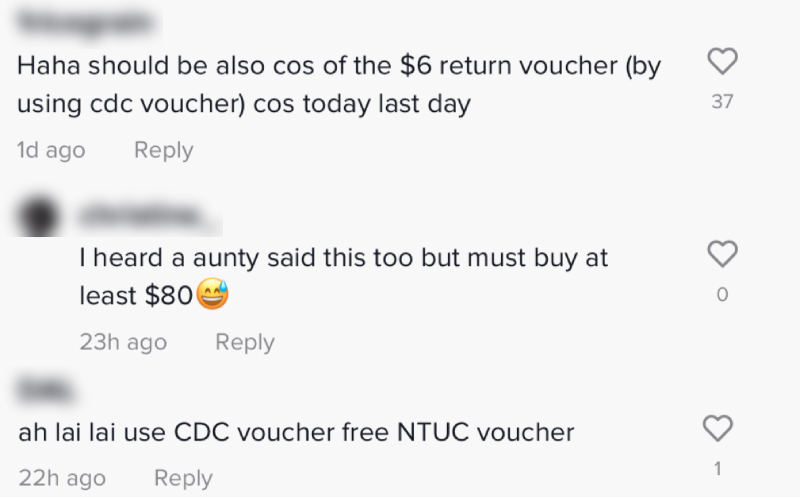 Large crowd at Chinatown
Supermarkets aren't the one places which have seen huge crowds all through this period. 
The annual Chinese New Year bazaar at Chinatown, Festive Fair, can be once more after a two-year hiatus and has attracted throngs of vacation makers. 
It started on Jan 1 and might run until Jan 21. 
While there are some 280 stalls at Smith Street, Pagoda Street, Trengganu Street and Temple Street, enterprise has been surprisingly gradual for some distributors. 
When The Sunday Times visited the market at 3pm on Jan 7, there have been a great deal of prospects seen alongside Pagoda, Temple and Smith streets, shopping for Chinese New Year decorations and snacks.
But quite a few areas, such Temple Street, have been much much less crowded and had quite a few unoccupied stalls. 
One vendor, Joanne Wong instructed The Sunday Times that her house was "so empty" that she couldn't even cowl her every day rental cost of $400 to $500. 
Wong had beforehand organize her stall on the bazaar sooner than the pandemic and attributed the gradual enterprise to prospects turning to on-line shopping for. 
"At this point, I just hope to break even," she acknowledged. 
No part of this story or pictures could possibly be reproduced with out permission from AsiaOne.
'Zombie apocalypse?' People are queueing for as much as 45 minutes at supermarkets at 11pm – here is why.For More Article Visit Passengernews24